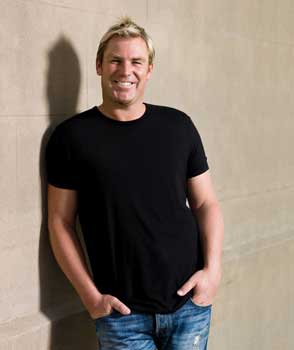 I'm regrowing my own hair…Yeah Yeah! The decision for me to do something about my hair loss was simple… I didn't want to go bald. So as soon as I started to lose hair, I saw Advanced Hair Studio, and under therapy, my own hair started to grow again.
Shane Warne has been undergoing hair loss treatment with Advanced Hair Studio since 2006.
Shane Warne began treating his hair loss with the Advanced Hair Studio, 'Advanced Laser Therapy' program. Shane Warne's hair has significantly benefited from this program, and we are delighted to confirm that Shane Warne continues with this hair loss treatment program today exclusively with Advanced Hair Studio.
In addition to the Advanced Laser Therapy Program, Shane Warne has now added the Strand-by-Strand replacement 'Blitz' program to his hair loss treatment regime. Full details of the 'Blitz' program, which is a combination of the Advanced Laser Therapy program and the Hairfusion hair procedure, can be found on this website or by contacting your local Advanced Hair Studio.
If you want to know more about how Advanced Hair Studio has helped Shane Warne tackle his Hair Loss, including the latest 'Blitz' on hair loss treatment program, please contact us using the online application form and we will be in touch to book your Hair Check at your convenience at your closest Advanced Hair Studio.
About Shane Warne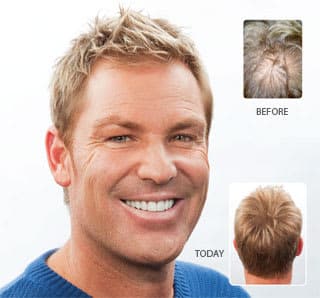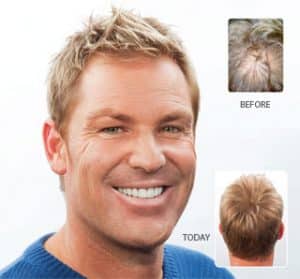 Shane Warne is one of the greatest bowlers in the history of cricket. During his career, he claimed every distinction and award available, including being named Wisden Leading Cricketer in the World twice, and one of the five Wisden Cricketers of the Century.
He took over 1,000 international wickets, making him the second-highest wicket taker of all time. Warne was also a proficient batsman, scoring over 4,000 runs in his career. He was also one of the only leg-spin bowlers that could translate their success in the test format to the one-day form of the game.
Warne was part of the Australian team that dominated international cricket from the mid-1990s all the way until the late 2000s. He was particularly damaging while playing in The Ashes, which is considered the pinnacle of test cricket.
Since retirement, Warne has become one of the most respected authorities in the game, especially through his work as a commentator on the Nine Network. He has also become a professional poker player and does incredible work for the community through extensive philanthropic and community work.
Warne is an undisputed Australian hero and one of the greatest Australian sportspeople of all time. He is also an international cricketing legend, and in any country where cricket is popular, Shane Warne will be a household name.
It's an honour to have such a respected figure as an Advanced Hair Studio ambassador, and we look forward to continuing to work with Shane to not only continue his hair loss treatment but to spread the word about Advanced Hair Studio so more people can take control over their future.
Restore your confidence today: