A Ground-breaking Medically Performed TGA Approved Hair Regrowth Procedure.

Exclusive to Advanced Hair Studio Clinics
Stem Cell Infused PRP is the latest scientific development in the treatment of hair loss and is the cumulation of 15 years of study into the benefits of Adipose Derived Stem Cells (ADSC's) in treating Androgenetic Alopecia in both men and women.
With a simple procedure this treatment harvests from your own body, (autologous) micro fragmented adipose tissue containing Stromal Vascular Fraction (SVF) and ADSC (adipose derived stem cells).
Only 5 months post treatment
ADSC's stimulate the hair follicle stem cells (HFSC's) to grow, which also sees the activation of numerous and important Growth Factors, such as PDGF (dermal papillae growth factors) and VEGF (Vascular endothelial growth factors). Those important Growth Factors both regulate and stimulate the regrowth of the hair follicle Stem Cells in the dermal papilla or hair bulb. Visable results can be seen in as little as 4-6 months.
No other hair regrowth treatment program can deliver this level of 'advanced medicine' for the treatment of hair loss anywhere in the world today.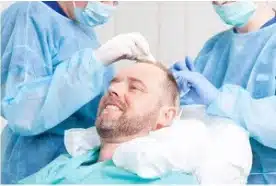 The benefits of harvesting autologous stem cells for the treatment of hair loss is that for every 0.5ml per inoculation point we are delivering about 75,000 stem cells grafted in each inoculation spot.
It is our aim to deliver up to 15 mls per treatment which equates to around 2,250,000 stem cells across a surface area up to 30 sq. cms of your scalp.
This is a minimally invasive (little down time), safe, painless autologous medical procedure carried out by a Stem Cell Specialist Dr, local anaesthetic is used.
Proven Results