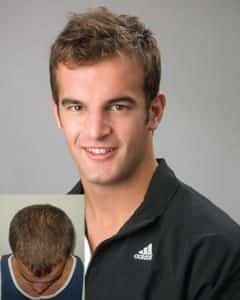 Sometimes it requires the combination of two powerful methods of hair loss treatment to overcome especially resistant hair loss. At our Brisbane clinic, Advanced Hair Studio's laser therapy program aims to do just that, and to provide you with the tools to regain your confidence.
No one wants to lose their hair. Hair loss is often a devastating blow, and an embarrassing reminder that youth and beauty do not last forever. However, using insights from the forefront of trichology (the study of hair) and the most advanced technology and pharmaceuticals available, you now have the tools to combat your genes and give your hair a fighting chance.
Completely rejuvenate dying and closed hair follicles by combining cutting edge, biologically safe laser beam technology, with established hair regrowth pharmaceuticals to completely maximise hair growth in a short period of time.
With expert advice from Brisbane's leading trichologists, consulting on the optimisation of your skin's health around the scalp, you should be growing thick, strong and all-natural hair within a matter of months.
How Does Low Level Laser Therapy Work?
Laser therapies improve blood flow in and around the scalp, thereby ensuring that vital minerals, nutrients and oxygen are transported to the most needed areas. Together with an FDA approved safe pharmaceutical, we can maximise the effects of both treatments in order to completely re-energise hair follicles and let them support hairs once more.
Men and women of Brisbane suffering from hair loss can now benefit from this treatment's 95% success rate and also from Advanced Hair Studio's national network of hair loss experts.
Associate Professor of Dermatology at Harvard Medical School, Dr Michael R Hamblin has examined our program, and has had this to say:
"I would assert that the Advanced Hair Studio parameters are well within the range of parameters that have been shown to be successful for hair regrowth and that there is, therefore, no reason to doubt that the treatment would regrow hair in suitable subjects (i.e. thinning hair)," said Hamblin.
You can read Dr Hamblin's full report here.
How Does Laser Hair Growth Treatment Work?
Our laser hair growth therapy works to revitalise the follicles in and around the scalp through a combination of the following:
Advanced low level laser technology
FDA approved pharmaceuticals
A monitored scalp and follicle treatment regimen
All of these treatments promote blood flow around the scalp, kick-starting the body's natural healing processes. The result? A fully fledged head of hair growing within months.
Contact Advanced Hair Studio for Laser Hair Growth Today
Brisbane men and women need no longer suffer in silence—revolutionary treatments are available. Give yourself a new lease on life. Regain your hair and confidence by contacting us today.
Restore your confidence today:
Call Advanced Hair Studio on 1800 800 500