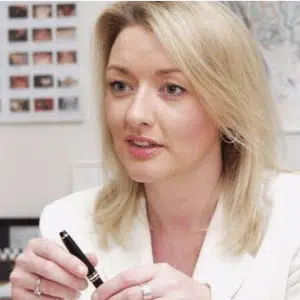 Denise Shields, Trichologist – Hair Loss Specialist
I'm Denise Shields, Trichologist and Manager of Advanced Hair Studio.
My passion is helping people with hair loss to achieve a full head of hair again and to restore their confidence and self-esteem.
As a Trichologist (hair and scalp specialist) I've worked for over 30 years with various companies around the world but none that are as committed to helping clients as much as Advanced Hair Studio. AHS has over 45 years of experience with studios in 13 countries and is continuing to expand because our programs achieve real success.
These exclusive programs include Hairfusion and Advanced Laser Therapy. In addition, we also provide world-class hair transplant procedures.
If you'd like a consultation with our most qualified hair loss expert, call now, or simply register on this page to make an appointment at Advanced Hair Clinic to receive advice on your hair loss. Register now!
Dermatology and Hair Loss
Dermatologists are your most reliable ally during hair loss, and trichology is a branch of dermatology. Losing hair is a disorder affecting the follicles and the scalp, so an understanding of the skin that makes up the scalp and follicles is essential in treating hair loss disorders.
Denise Shield's deep understanding of the relationship between the scalp and hair gives our hair loss treatments a distinct advantage. It allows us to infuse our knowledge of hair loss and treatment with their experience in treating severe hair loss conditions.
Make the most of Denise Shield's expert knowledge and book an appointment as soon as possible.
Our Hair Doctor Treatments
After analysing your scalp and hair, Denise Shield's will suggest one, or a combination, of our hair loss treatments:
Men's Therapies: Our therapies for men have been put through rigorous scientific and medical studies. Our therapies are designed to help men regrow their hair naturally, without the need for invasive procedures. You can avoid the baldness that plagues so many males just by making an appointment with Denise.
Women's Therapies: Hair loss in women can be devastating. With the help of Denise and Advanced Hair Studio, you can hold onto your hair. Our sophisticated techniques and technologies give you the power to regrow your hair naturally, and our extensions are the most advanced in the market.
Book An Appointment With Denise Shields, Hair Doctor Today
Take advantage of Advanced Hair Studio's relationship with such an esteemed member of the trichology field. An online appointment with Denise could change your life. Losing your hair can wreak havoc with your self-esteem and enjoyment of life.
Going bald is not an inevitability for men, and it's not something unlucky women have to cover up. The technology is there, the knowledge is there, and the expert advice is there – it's up to you to use it. Restore your confidence today: