Hair Loss Diagnosis Monitored by Hair Loss Doctors
In addition to the services of one of Australia's leading dermatological departments, Advanced Hair Studio offers the services of a trichologist who is an academically trained professional specialising in the diagnosis and treatment of hair and scalp disorders.
On What Subjects Can Our Trichologist Advise?
At Advanced Hair Studio, our specialist trichologist is able to advise on and diagnose and assist with treatments for a wide range of hair loss conditions, including:
Male and female pattern hair loss or baldness (androgenetic alopecia)
Telogen effluvium (diffuse hair loss)
Congenital alopecia
Traction alopecia
Alopecia areata, totalis and universalis
Cicatricial alopecia
Frontal fibrosing alopecia
Trichotillomania
Body dysmorphic disorder (BDD)
Not all hair loss or associated conditions may be treatable by medical procedures or programs, however, at Advanced Hair Studio, a prescribed course of treatment by a specialist trichologist will ensure that you are fully informed on all of the treatment options and solutions available.
Our trichologists, hair specialists and the entire Advanced Hair Studio team are dedicated to providing honest advice on your condition and your treatment.
We will never sell false hope or suggest a treatment that won't work. We always endeavour to devise a treatment plan, however, if we feel as though your condition is not treatable by our program or a medical procedure, we will ensure you have all the information you need to make informed decisions about the next step.
Androgenetic Alopecia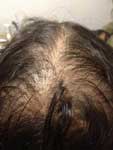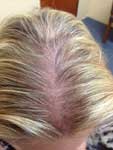 Pseudelade scaring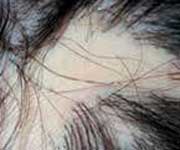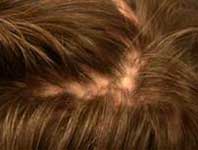 Traction Alopecia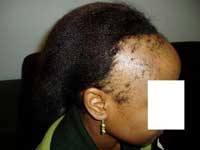 Potential Treatments for Hair Loss
Our hair loss specialists may suggest one, or a combination of, the following treatments:
All these treatments have been designed through collaboration with our dermatology and trichology teams. The treatments are only made available after rigorous scientific testing and once approved by relevant regulatory bodies.
These treatments work perfectly in conjunction with one another, and we often suggest undergoing laser therapy with our other procedures to promote further natural hair growth and to keep the follicles activated.
Contact Advanced Hair Studio For Hair Loss Specialist Advice
If you want to be one of the 1 million people that have had their lives changed by our expert advice and revolutionary approach to hair loss therapy, then get in touch with us today. We've seen the effect that hair loss has, and we've also seen the impact of regrowth. Restore your confidence today: